Founded in 2010,  S.Santanna Transport has a history of continuous and fast development. The reason: always to keep the promisse of  working better, faster and  with efficiency.
The company started with collection and delivery services in Porto Alegre metropolitan district area. In a short period of time, the company operation grew together with its coverage area. Today it reaches all the south area, including  an  advanced  branch, operating in Rio Grande, Southeast and Northeast areas. Soon, it will reach North and Midwest country.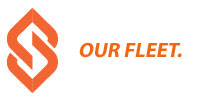 More than 50 vehicles, including owned and aggregate distributed:
– Simple and semi-trailer truck tractors
– Boards with 3 and 4 axes;
– BoxTrucks, bulk carrier and lowered wagons among others;
– Tractor trucks.

A S. Santanna has an open air area for loads storage. This possibility gives an economy for the customer,  eliminating extra investiments in own wharehouses. It also allows a great flexibility in their structure. Search about customized outsourcing projects of storage and logistics.